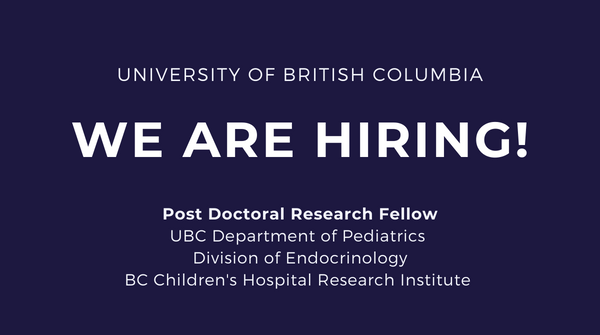 We are hiring! Post doctoral research fellow in pediatric endocrinology opportunity
The UBC Department of Pediatrics, Division of Endocrinology invites applications for a Postdoctoral Research Fellow to join a multidisciplinary translational research program in clinical pediatric diabetes research based at BC Children's Hospital Research Institute.
One postdoctoral position is available to join an energetic and collegial group dedicated to enhancing the health of children with diabetes. The successful applicant will work at the BC Children's Hospital Research Institute on this exciting collaborative project directed by Dr Angela Devlin and Dr Dina Panagiotopoulos. The project will involve molecular phenotyping of children with diabetes and understanding the pathophysiology and progression of cardiovascular complications in children with type 1 diabetes. The Devlin and Panagiotopoulos labs are located within the Childhood Diabetes Laboratories at BC Children's Hospital Research Institute and are part of the provincial BC Diabetes Research Network (diabetesbc.ca).
Applicants should have a recent (<2 years) PhD or MD/PhD with a strong background and publication record in a relevant field (e.g. diabetes, vascular biology, physiology, endocrinology). The position involves clinical research and will include preparation of ethics applications, subject recruitment, data collection, physiological assessments of vascular health, blood processing and analyses, data management and statistical analyses, presentations at national and international meetings, and manuscript preparation. The position will commence as soon as possible. The initial appointment will be for a one-year term, with potential for annual renewal. Salary will be commensurate with qualifications and experience.
The applicant should also demonstrate the ability to work independently, conceive, initiate, organize and manage projects. Excellent verbal and written communication skills are a necessity as well as the ability to work in a team environment. Management experience with clinical studies and longitudinal cohorts is an asset.
This position will begin 1 April 2023. This is a 1.0 FTE term appointment subject to annual renewal.  Salary will be commensurate with qualifications and experience.
Please submit via email a curriculum vitae and a letter of application including a statement of areas of expertise and strengths and the names of three referees, no later than 30 days after posting to:
Dr Angela Devlin                                                                           Dr Dina Panagiotopoulos
Professor, Department of Pediatrics                                         Endocrinologist, BC Children's Hospital
Faculty of Medicine, UBC                                                            Clinical Professor, Department of Pediatrics
Director, Healthy Starts Research Theme                               Faculty of Medicine, UBC
BC Children's Hospital Research Institute                              BC Children's Hospital Research Institute
Email: [email protected]                                                    Email: [email protected]
This position is located within a health-care facility, therefore, the successful candidate will be required to provide verification of full vaccination against Covid-19 provided prior to the start date, as required by a provincial health mandate.  This offer is conditional upon successful completion of a Criminal Record Check.
Equity and diversity are essential to academic excellence. An open and diverse community fosters the inclusion of voices that have been underrepresented or discouraged. We encourage applications from members of groups that have been marginalized on any grounds enumerated under the B.C. Human Rights Code, including sex, sexual orientation, gender identity or expression, racialization, disability, political belief, religion, marital or family status, age, and/or status as a First Nation, Metis, Inuit, or Indigenous person. All qualified candidates are encouraged to apply; however, Canadians and permanent residents of Canada will be given priority.
Link to UBC Employment Website